Château Simon, Bordeaux Blanc, Cépage Sauvignon 2016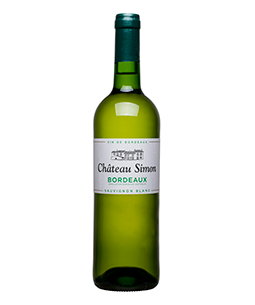 Appellation: Bordeaux Blanc
Region: Bordeaux
Country: France
Color: White
Varietal(s): 100% Sauvignon Blanc
About The Producer
The Dufour family's winemaking tradition has been passed down for many generations at their family Château located in Bordeaux appellation of Graves along the Left Bank of the Garonne River.
Terroir & Vineyard Practices:
The Sauvignon Blanc is grown on one half of one hectare in the commune of Barsac on the alluvial banks of the River Garrone.
Tasting Notes
A refreshing white Bordeaux made from hand-picked 100% Sauvignon Blanc. Environmentally conscious, the father-daughter team of this old family domaine creates beautiful wine. Floral aromas and crisp acidity make this wine ideally suited for pairing with fish, seafood, light chicken dishes or enjoying all on its own.
Vinification
The grapes are hand picked and pressed. After a cold settling, the must ferments in stainless steel vats and the temperature is controlled electronically until all sugar has completely disappeared. Only 250 cases of this wine are produced each year.