Château Puy Galland, Francs Côtes de Bordeaux 2018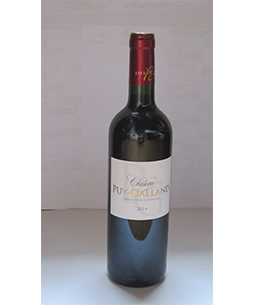 Appellation: Francs Côtes de Bordeaux
Region: Bordeaux
Country: France
Color: Red
Varietal(s): 90% Merlot, 10% Cabernet Sauvignon
About The Producer
Château Puy Galland in the Francs-Côtes de Bordeaux appellation, which is only 10K east of Saint-Emilion. Located in the rolling, green part of Bordeaux's Right Bank, the Francs-Côtes de Bordeaux shares the same warm climate and clay-limestone soils similar to the best Right Bank vineyards. Bernard Labatut is the third generation to work the vines at Château Puy Galland. His 29-year-old son is starting to take the reins.
Terroir & Vineyard Practices:
The grapes come from 50+-year-old vines in the right bank clay-loamy soils that Merlot loves.
Tasting Notes
A classy Merlot/Cabernet Sauvignon blend Bordeaux with black cherry and cocoa notes. Fleshy and round on the palate. The judicious use of oak maintains a balance between fruit and tannin. Ready to drink tonight!
Vinification
Bernard likes the organic approach to wine growing. He practices canopy management and green harvests to produce better quality, riper grapes. He carefully sorts his grapes on his triage table and rejects anything that is unripe. Bernard ages the wine 12 months in second-year oak barriques to maintain a balance between fruit and tannin. He is dedicated to quality and works with oenologist Jean Philippe Faure, who works at winemaker-to-the-stars Michel Rolland's oenology firm.