Domaine Paul Kubler, Alsace, Pinot Gris Les Combes 2017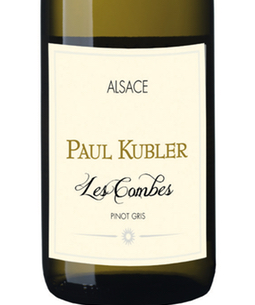 Appellation: Alsace
Region: Alsace
Country: France
Color: White
Varietal(s): Pinot Blanc
About The Producer
Philippe Kubler (his Domaine, Paul Kubler, still bears the name of his father) is an intensely passionate, incredibly talented winemaker with a top-notch resume and, most importantly, top-notch wines. Beginning with the 2004 vintage, Philippe took over his family's Domaine. The Kubler family's estate is 9 hectares (about 22 acres), and the average age of the vines is over 35 years old. The Kubler Family has been making wine here since 1620 and use sustainable farming practices.
Terroir & Vineyard Practices:
The Pinot Gris vines were first planted in 1988 in a pink-sandstone deposit with a south-west exposure. The vineyard takes advantage micro-climates with marked thermal amplitudes formed between the hillsides of Grand Cru Zinnkoepfle/ lieu-dit Weingarten, and / lieu-dit Weingarten// lieu-dit Breitenberg. The result is a wine that expresses the generosity of the Pinot Gris grape, while preserving freshness and delicacy. The grapes are picked and sorted by hand.
Tasting Notes
The nose opens on an intensely smoky frame, toasted with notes of Mirabelle plum, peach, apricot, and fresh hazelnut. This is confirmed on the palate with a delicious balance of energy and fullness that ends in a long and enjoyable finish. A dry and racy Pinot Gris that pairs with rich dishes like grilled white meats in sauces, mushroom risottos, and even pork dumplings.
Vinification
The grapes undergo a gentle pressing over 5 hours. Fermentation takes place in foudre (traditional oak casks) for 4 weeks. The wine ages sur lie through the spring and then on fine lees until bottling in the late summer. This is a dry white wine with 0 g/l RS.