Domaine Pierre Gaillard, Côte Rôtie, Rose Pourpre 2018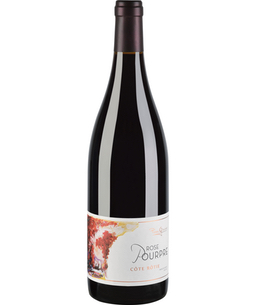 Appellation: Côte Rôtie
Region: N. Rhone
Country: France
Color: Red
Varietal(s): 100% Syrah
About The Producer
Pierre Gaillard is one of the most respected vignerons in the Northern Rhône. He toiled alongside Guigal in the '80s to create Guigal's La Turque, which is a benchmark vineyard in Côte Rôie with bottles going for hundreds of dollars apiece. In 1981 Gaillard scraped together enough money to buy his first parcel of land in the St Joseph appellation, Le Clos de Cuminaille, located in the village of Chavanay. By 1987 he centered his business in the medieval town of Mallevall. Never one to settle, he continues to tease the best from this demanding region.
Terroir & Vineyard Practices:
The Rose Poupre comes from a single parcel vineyard (0.8 ha) called Côte Rozier located at the heart of the Côte Brune. The vineyards tower over the town of Ampuls on schist soils rich in iron oxide.
Tasting Notes
A special single-vineyard cuvee made from 100% Syrah that is strong, refined, and cellar-worthy. Deep purple/ruby color with concentrated blackberry, licorice, and savory spices. Long, lush finish.
Vinification
Manual harvest, with sorting and total destemming. Placed in barrels before malolactic fermentation, this wine blends gradually with the oak producing pleasant aromas. Aged 18 months in fine oak barrels (50% new) with oxygen added every 4 months.
Press
(94-97) points – Wine Advocate: "Tasted from a new barrel, the 2018 Cote Rotie Rose Pourpre features mocha and plum notes. It's full-bodied, rich and velvety, with that weight offset by cool menthol notes, and the lengthy finish even seems refreshing as a result. I love the contrast in styles provided by Gaillard's two top bottlings of Côte Rôtie. Drink 2023-2040."- Joe Czerwinksi, Wine Advocate