Domaine Yvon and Laurent Vocoret, Chablis 1er Cru Homme Mort 2018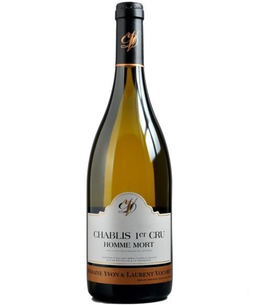 Appellation: Chablis 1er Cru
Region: Burgundy
Country: France
Color: White
Varietal(s): Chardonnay
About The Producer
Domaine Yvon & Laurent Vocoret is a small, family-owned estate in Chablis whose history dates back to 1713. The Domaine was formally established and renamed in 1863. Yvon (6th generation) and Laurent (5th generation) of winemakers to uphold the family motto: "quality, dignity, and respect." Since 1974 they have been farming organically to respect and protect their vines and the environment. Their wines represent the essence of their exceptional terroir.
Terroir & Vineyard Practices:
Sourced from a small parcel located in 1er Cru Homme Mort, situated in the 1er Cru Fourchaume just south of the town of Maligny. The 40-year-old vines are planted in Marnous Limestone pebble-soil.
Tasting Notes
A big and beautiful 1er Cru Chablis, in both aromas and mouthfeel. The wine has very clean and precise fruit throughout the entire experience. Very fresh with volume, delivering layers of flavor. The finish is dominated by high notes of citrus.
Vinification
Each plot is harvested separately, according to maturity. The wine undergoes a light static settling. This keeps enough of the fine lees so that the alcoholic and malolactic fermentations occur naturally. The wine is aged in stainless steel to preserve the wine's freshness and character. It has a cellaring potential of 10 years.