Maison Auvigue, Mâcon-Solutré 2019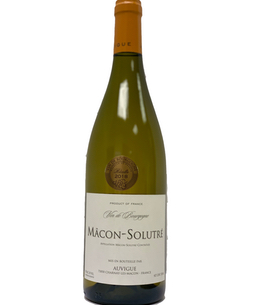 Appellation: Mâcon-Solutré
Region: Burgundy
Country: France
Color: White
Varietal(s): Chardonnay
About The Producer
The Auvigue family has been working its vineyard for generations, closely following traditional Burgundy methods. They have a long history in the Mâconnais. The grapes come from family estates or are carefully selected from the best areas of the Pouilly Fuissé, Saint Véran and Mâcon appellations. To allow each parcel to remain true to itself, Jean-Pierre and Michel Auvigue always adapt the vinification process to the climate.
Terroir & Vineyard Practices:
The grapes come from the Villages of Solutré, near to the rock of Solutré. The soil composition is sedimentary rocks from the Cretaceous period that are clayey limestone.
Tasting Notes
This is the pure expression of Chardonnay because of the pale gold with green tints. Fruity and floral, embracing a mineral touch with white flowers, and a good length in the mouth. The wine can be aged one or two years according to the character of the vintage.
Vinification
The grapes are hand-harvested when fully ripe and pressed immediately. The juices then go through static settling. Only the clear juices are vinified in 100% stainless steel tanks. The bottling is done in spring depending on the harvest in order to preserve the coolness and the natural fruity of this cuvée.