Bergerie du Capucin, Pic Saint Loup, Larmanela 2017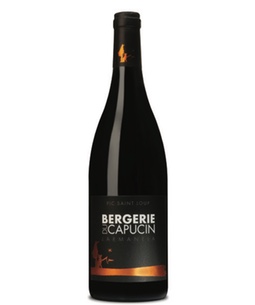 Appellation: Pic Saint Loup
Region: Languedoc
Country: France
Color: Red
Varietal(s): 95% Syrah, 5% Grenache
About The Producer
Guilhem Viau, the former president of the Pic St. Loup appellation, started Bergerie du Capucin (the friar's shepherd) in 2008. His winemaking skill has him fast-tracked, quickly winning the prestigious Trophy of the Grands Vins de France competition. The estate now totals over 15 hectares, in the lands of the Pic Saint-Loup, on the communes of Lauret and Valflaunès. Guilhem's intent is for his family Domaine to remain true to the flavors of his roots. They practice Reasoned Agriculture.
Terroir & Vineyard Practices:
Pic St. Loup was recognized as an appellation in 2016. Hence, this is the 1st bottling of this wine under the new appellation. The vines are planted in a Chalky-clay scree and average 35 years.
Tasting Notes
Larmanela exalts the fresh and delicate aromas from the Pic Saint Loup's terroir. The wine's flavors are that of sweet berries melding with the aromatic notes of our garrigue to create a wine with suppleness and finesse. Serve with red meats, lamb, and game.
Vinification
Traditional vinification with temperature control and a long maceration. Aged in 400-litre barrels for 16 months. It can be kept 5 to 10 years. "Larmanela" translates to grazing lands for sheep. This special pasture is located just in front of the Bergerie, where no vines are grown. It's just the name of the wine, for history... Larmanela is the great wine of Guilhem's estate.
Press
96 points- Gold Medal - Decanter World Wine Awards 2020: "Exquisite smoky black fruit, kirsch and sweet vanilla oak interwoven with rosemary and thyme herbal characters; serious and concentrated with ripe tannins and a delightful contrasting freshness." - Decanter