Bodega Martinez Lacuesta, Rioja Crianza 2015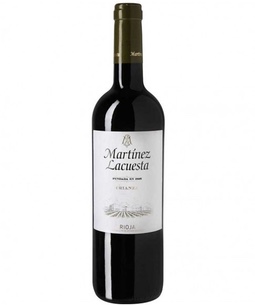 Appellation: Rioja
Region: Rioja
Country: Spain
Color: Red
Varietal(s): Tempranillo, Graciano, and Mazuelo (Carignan)
About The Producer
Bodega Martínez Lacuesta was founded in 1895 in Haro by Félix Martínez Lacuesta – Winemaker, Politician, and Promoter. He was the first president of the National Society of Wine Growers and Wine Producers, and president of the Rioja Wine Union. Also, he represented bodega owners in the establishment of the Rioja D.O. appellation. Along with his brothers Alfonso, Julio, José María, José Crescencio, and Emiliano they formed the beginnings the modern Bodegas Martínez Lacuesta. Today, the bodega remains a family business. It is one of the Hundred-Year-Old Rioja Bodegas.
Terroir & Vineyard Practices:
The Bodega's vineyards are located in Haro (Rioja Alta), on the right bank of the River Ebro. The vines are at an altitude of 400-500 meters above sea level, and the main grape varieties that are raised are Tempranillo, Garnacha (Grenache), and Mazuelo (Carignan).
Tasting Notes
A tasty and well-structured wine with a deep black-cherry color. The fruity taste has an elegant finish with perfectly integrated sensations of oak. Highly recommended to accompany white or red meats, game or mature cheeses.
Vinification
Cold maceration of grapes and musts in stainless steel tanks to extract aromas and color. The wine is then aged in new and used American oak casks for 18 months. The wine is released 6 months after bottling at the bodega.