Bodega Nivarius, Rioja, N (white) 2020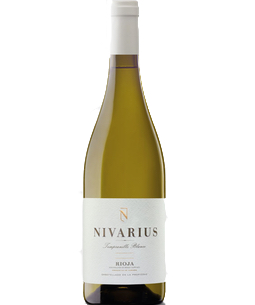 Appellation: Rioja
Region: Rioja
Country: Spain
Color: White
Varietal(s): 95% White Tempranillo, 5% Malvasía Riojana
About The Producer
Bodega Nivarius is a unique winery in Rioja because it exclusively produces white wines from native varieties such as White Maturana, Viura, and Garnacha Blanca. The winery and vineyards are at elevations of 800 meters, with north-facing vineyards influenced by an Atlantic climate. These conditions create impeccable white wines that express the character and genuine personality of the region's local white varieties, such as White Maturana. The estate uses honest farming practices with little intervention to respect the biodiversity of the environment, resulting in the most genuine expression of the land and the wines. Nivarius is a Latin term for a natural well where the snow was stored all year round.
Terroir & Vineyard Practices:
From selected vineyards in Albelda de Iregua and Montes de Clavijo. The 15-year-old vines are at an altitude of 700 meters above sea level—Head-pruned and trellising systems. The soil is a mixture of ferrous clay, with calcareous clay and a sandy component of degradation, which gives the wine agility, depth, and versatility.
Tasting Notes
Straw-yellow color, with greenish rim. Good intensity on the nose, hints of apple, pears, and stone fruits accompanied by a slight aroma of white flowers and a subtle mineral reminiscence. Fresh and balanced on the palate with ample texture and a long finish with dried fruit hints.
Vinification
Manual harvest in boxes of 18 kg, each variety individually. Gentle pressing in the absence of oxygen at a low temperature. Fermentation in stainless steel to preserve aromas. Subsequent aging on the fine lees for 4 months in steel tanks and French oak barrels with lees stirring 3 times per week to give the wine a broad texture.