Castell d'Age, Penedès, 100% Garnatxa Blanca No SO2 Added (Orange Wine) 2020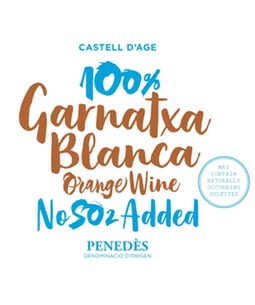 Appellation: Penedès
Region: Catalonia
Country: Spain
Color: Orange
Varietal(s): Granache Blanc
About The Producer
Castell d'Age is the creation of three generations of women in the Junyent family, located in the Beguda Baixa, in the heart of the Alt Penedés region. It all started with Aurèlia Figuera and then was transformed by Anne Marie Comtesse in the late 1980s with the production of Cavas. Anne Marie is a pioneer in introducing organic farming in the region. With the addition of her daughter Olivia Junyent to the business, they are now certified organic and biodynamic agriculture, a method that respects the relationship between humans and earth.
Terroir & Vineyard Practices:
The Bodega is certified organic and biodynamic at the strictest levels and this wine is made without the addition of sulfur. This comes from young Grenache Blanc vines grown in Can Pujades on Clay soils.
Tasting Notes
A natural, authentic, and honest wine made exclusively of Grenache Blanc without the addition of sulfur. It has a pale yellow hue with orange tones. The nose has aromas of orange peel and candied white fruit. It is broad and unctuous on the palette. An orange wine with a distinctive personality, ideal to be served with pan-foie gras, poultry, seafood, oily fish, and Roquefort cheese.
Vinification
The grapes are harvested in the second half of September. It undergoes cold maceration on the skin for 5 days followed by spontaneous fermentation at controlled temperatures with indigenous yeast from Castell d'Age vineyards. Made without the addition of sulfur. No filtration or clarification. A natural, authentic, and honest wine. Limited production.