Clos Triguedina, Probus 2016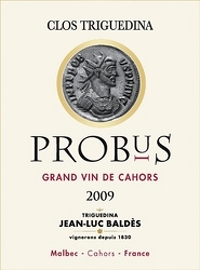 Appellation: Cahors
Region: Southwest
Country: France
Color: Red
Varietal(s): Malbec
About The Producer
In the 3rd century, Probus was a Roman emperor who allowed winegrowers to plant vineyards once more in Quercy. As a tribute, Jean Baldès created the first 100% Malbec in 1976. This prestigious pure Malbec cuvée is the finest expression of Cahors wines and a reference for the Malbec grape. Rich, dense yet elegant, Probus is a landmark in the region.
Terroir & Vineyard Practices:
3rd Terrace; clayey-siliceous and clayey-calcareous soil with iron ore on gentle slopes.
Tasting Notes
Intense and lively nose with flavors of cassis, plum and subtle oaky aroma. Concentrated but very suave palate with splendid fruit and spice flavours. Complex structure with opulent and velvety tannins. Powerful finish.
Vinification
Certification: High Environmental Value. Environmentally friendly and traditional growing methods with hand-picked harvest. Vatting time from 20 to 25 days. 12 months in French oak barrels. Following tasting from each cast, only the very best are chosen.