Domaine Couly Dutheil, Chinon, Baronnie Madeleine 2016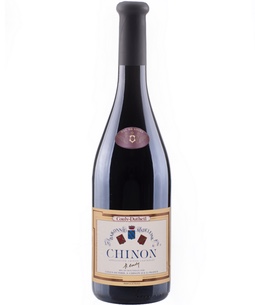 Appellation: Chinon
Region: Loire
Country: France
Color: Red
Varietal(s): Cabernet Franc
About The Producer
Domaine Couly-Dutheil has become, over the years, a reference point for the appellation of Chinon and one of the Loire Valley's most famous estates. Established in 1921 by Baptiste Dutheil, then developed by his daughter, Madeleine Dutheil, and her husband René Couly, today Couly-Dutheil remains a family Domaine, owned by the third and fourth generation. Arnaud Couly is the fourth generation and current winemaker, having taken over from his father, Jacques Couly, in 2003. Couly Dutheil owns a total of 90 hectares of vines, 98% of which are Cabernet Franc. They sell 80% of their production within France, most of which is served at many of the finest restaurants in the country, including 21 of the 26 Michelin 3-Star restaurants. The multi-level, state-of-the-art facility is built into the limestone rock hillside and features a gravity-flow design to ensure maximum protection of the grapes and wine during each stage.
Terroir & Vineyard Practices:
La Baronnie Madeleine is bottled only in top-quality vintages, only after a blind tasting confirms its success. If the blind tasting does not show the wine to be superior, the wine is incorporated into the lesser cuvées and not bottled separately as Baronnie Madeleine. The cuvée, named for the winemaker's grandmother, represents the style of the "Feminine Ideal:" richness and elegance. The wine must be round, charming, and complex with elegant and rich tannins to ensure good aging potential. In the vineyard, integrated farming systems are employed, leaves are thinned to increase ripeness, and grapes are tested in the laboratory. Grapes are strictly selected and hand-harvested before destalking, averaging a yield of 40 to 45 Hl/Ha.
Tasting Notes
Lovely intense ruby color appearance with purplish reflection. The bouquet is superb with red fruit aromas and spicy notes. Generous and elegant, with rich, high-quality tannins, this wine is very well balanced and can be kept for 5-7 years.
Vinification
Controlled-temperature fermentation in stainless steel tanks includes an exclusively designed punching-and-crushing system. Fermentation lasts 2 weeks, plus a 3 or 4 week maceration period for maximum concentration of fruit and character. Regular and traditional racking proceeded by egg white fining. The wine is bottled three months after fining and goes on the market 2 to 3 years after harvest.
Press
92 points – Editors' Choice- Wine Enthusiast: "In this rich, wood-aged wine, ripe berry fruits are balanced by a complex structure for a ripe medley of flavors. The wine is just beginning to hint of a comfortable maturity, with tannins melting into the autumnal flavors. Drink the wine from late 2021." - Roger Ross, Wine Enthusiast