Domaine Couly Dutheil, Chinon, Crescendo 2014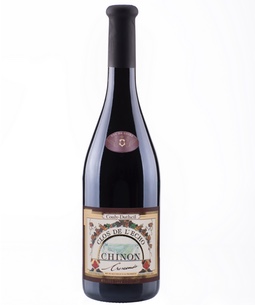 Appellation: Chinon
Region: Chinon
Country: France
Color: Red
Varietal(s): Cabernet Franc
About The Producer
Domaine Couly-Dutheil has become, over the years, a reference point for the appellation of Chinon and one of the Loire Valley's most famous estates. Established in 1921 by Baptiste Dutheil, then developed by his daughter, Madeleine Dutheil, and her husband René Couly, today Couly-Dutheil remains a family Domaine, owned by the third and fourth generation. Arnaud Couly is the fourth generation and current winemaker, having taken over from his father, Jacques Couly, in 2003. Couly Dutheil owns a total of 90 hectares of vines, 98% of which are Cabernet Franc. They sell 80% of their production within France, most of which is served at many of the finest restaurants in the country, including 21 of the 26 Michelin 3-Star restaurants. The multi-level, state-of-the-art facility is built into the limestone rock hillside and features a gravity-flow design to ensure maximum protection of the grapes and wine during each stage.
Terroir & Vineyard Practices:
A definitive estate in Chinon with vineyard holdings that include the famous "Clos de L'Echo" vineyard. This wine comes from selected parcels of the very stony south-facing slope of the "Clos de L'Echo" vineyard. After many years of research on yield, and tests with different oak barrels, this wine has reached an outstanding quality level to deliver a concentrated and harmonious cuvee. The clay and limestone soil holds very old vines produce these Cabernet Franc grapes, whose maturity and ripeness are highly controlled by leaf thinning and laboratory testing. Harvest is manual, with strict selection, leading to a low yield of 20 to 25 Hl/Ha.
Tasting Notes
Very dark and intense ruby and garnet in color, this wine shows a bouquet whose elegance and complexity is absolutely astounding as it reveals fragrances of ripe, spicy black fruits, oak, brown tobacco, and fresh vanilla. Red fruits, vanilla, integrated wood, and spices line the palate for an infinite length of time. This wine has the potential to age for 20 to 25 years. Decant before serving.
Vinification
Controlled temperature fermentation in stainless steel tank utilizes an exclusively designed system for punch downs. Fermentation lasts two weeks plus four weeks maceration for high concentration. Traditional and regular racking proceeded by fining using egg whites. The renowned wine is a fleshy red, requiring a long time aging in barrel to bring forth its prestigious personality - this wine matures in French oak for 24 to 26 months.
Press
Today this Rare Wine is listed by most of Top 2 or 3 stars Michelin Gastronomic restaurants.