Domaine de Mourchon, Côtes du Rhône (rouge) 2019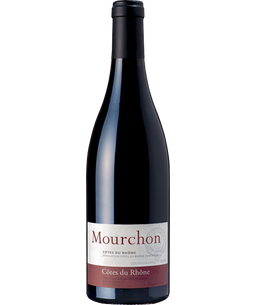 Appellation: Côtes du Rhône
Region: Southern Rhône
Country: France
Color: Red
Varietal(s): 60% Grenache, 40% Syrah
About The Producer
Scotsman Walter McKinlay purchased 40+ acres in Séguret in the Southern Rhone Valley, and today, his Domaine is a leading estate whose wines define the region. Set in a secluded valley between the picturesque village of Séguret and Mont Ventoux, Domaine de Mourchon was created by the McKinlay family in 1998 and is now under the direction of Kate McKinley. The vineyard had some twenty hectares of mature vines but no facility to make wine, so they constructed a state-of-the-art modern facility completed in 2000. The terraced hillside vineyard sits at an average altitude of 350m. The soils of clay and grey limestone, combined with a microclimate, gives the location a terroir of unique quality. The Domaine specializes in producing well-structured wines with pronounced fruit aromas and saturated colors.
Terroir & Vineyard Practices:
A mixture of clay, limestone, and grey sandstone on steep slopes. The vines average 40 years old. Yields are a stunningly low 35 hl/ha. Domaine de Mourchon's application of sustainable viticulture means a commitment to the use of natural and organic methods wherever practical and the use of chemicals as a last resort – 'culture raisonée' as it is known in France.
Tasting Notes
Fresh, juicy fruit with notes of rosemary and sage. It has a red fruit nose with spicy notes. The mouth is velvety on a soft fruity. To be enjoyed with charcuterie, grilled beef, pasta in sauce, or creamy cheeses. Delicious with a slight chill in the summer.
Vinification
The grapes are put into large stainless steel vats, separated by grape variety and land parcels, and fermented individually. The fermented juice is then aged in 100% concrete vats. Concrete vats "breathe," unlike the inert environment of the stainless steel tanks in which the wine is fermented. This slow, controlled interaction with the atmosphere allows the tannins within the wine to begin to "round out" and soften. The final blend (the assemblage) is made after an 18-month to 2-year period of maturation; it is bottled at the Domaine.