Domaine du Grand Ormeau, Lalande de Pomerol 2016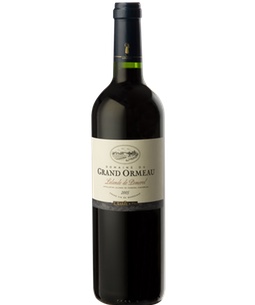 Appellation: Lalande de Pomerol
Region: Bordeaux
Country: France
Color: Red
Varietal(s): 80% Merlot, 10% Cabernet Sauvignon, 10% Cabernet Franc
About The Producer
Domaine du Grand Ormeau is one of the oldest family vineyards in Bordeaux. They have been making wine since 1833. They work hard to maintain the balance between tradition and modernization. This is one of the many domaines on the rise.
Terroir & Vineyard Practices:
Their vineyards are located in both communes of Laland de Pomerol, so this wine hits all the marks. The clay and gravel based soils found on the Right Bank, gives Merlot it's truest and most richest expression. Also, Laland de Pomerol has that famous iron oxide in the clay that gives Pomerols their distinctive note. Cultivation on the vineyard is done by traditional methods with mechanical work of the soil, sustainable agriculture, hand thinning out of leaves and bunches.
Tasting Notes
This juicy, sumptuous Laland de Pomerol delivers with it's blend of 80% Merlot, 10% Cabernet Franc and 10% Cabernet Sauvignon. Juicy, plump and wonderfully giving the dark stone fruits, licorice, and mocha all create a highly expressive, pleasing wine. A real knockout.
Vinification
After destemming and crushing, the grapes are left to macerate in cold temperatures for 3 to 5 days in order to extract a maximum amount of color and aroma. Alcoholic and malolactic fermentations are then carried out in temperature controlled vats.
Press
90 points - Silver Medal Decanter World Wine Awards 2019: "Poised and savoury, with a lovely pace throughout, revealing black plum compote, graphite and cherry liqueur leading to a long finale." - Decanter