Domaine J.Laurens, Crémant de Limoux, La Rose No.7, Sparkling Rosé NV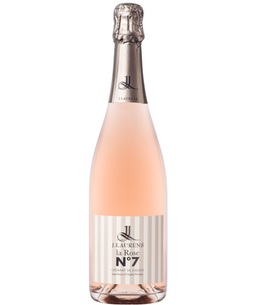 Appellation: Crémant de Limoux
Region: Languedoc
Country: France
Color: Rosé
Varietal(s): 60% Chardonnay, 25% Chenin Blanc, 15% Pinot Noir
About The Producer
Domaine J. Laurens is located near the famous city of Carcassonne in France's wine region of Limoux. Since the Domaine's beginning, they have been recognized for the high-quality of their sparkling wines. In 2021 the Domaine received an HVC3 ("High Environmental Value" Certification), indicating farming practices are conducted sustainably. Level 3 is the highest level awarded to wineries that have made accommodations for the entire estate operation. 
Terroir & Vineyard Practices:
They take great care to hand harvest and observe the AOC laws using traditional grapes.
Tasting Notes
Hand-harvested sparkler is fresh and dry with delicate bubbles. The light cherry-pink color and ripe aromas give way to a palate that boasts red fruits and vigorous fullness of flavor.
Vinification
This sparkling wine is made in the "Traditional" method: the wine undergoes two fermentations in bottle and remains on the less for a minimum of 12 months. The name is a nod to celebrate the 1st time they launched this rose in 2007.
Press
91 points - "Editor's Choice"- Wine Enthusiast: "Lovely scents of red cherry and plum skin are coupled with an earthy hint of pressed violet on the nose of this fresh and inviting sparkling rosé. A bright and vibrant red color, it's medium in weight and offers a fine mousse to support the rich red-fruit flavors, while a spicy flourish graces the finish."- Wine Enthusiast
Bronze Medal Decanter World Wine Awards 2017, 2018, and 2019: "Crushed strawberry, red apple and biscuit nose, zesty red berry and a fine integrated mousse palate."- Decanter 2019