Domaine Jean Pierre Large, Beaujolais Cru Morgon, Les Délys 2020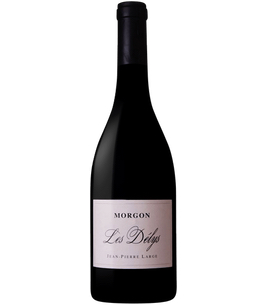 Appellation: Morgon
Region: Burgundy
Country: France
Color: Red
Varietal(s): Gamay
About The Producer
Winemaker Jean-Pierre Large is the Beaujolais Cru-master behind the exceptional (and perennially popular) Domaine Cheysson Chiroubles, which we have imported for more than 15 years. The Morgon comes from Jean-Pierre Large's grandfather. These old vines contribute even greater richness and complexity to this wine. Les Délys is the same fabulous wine we've been importing for many years - it just has a new look to feature the name of Jean-Pierre Large's property that pays homage to the birthplace of his family. His grandfather called this place "Les Délys," said to be "the cradle of his family," where they lived for 200+ years. It is in the commune of Villié Morgon, where Jean-Pierre's father was born.
Terroir & Vineyard Practices:
Morgon is known for producing wines of profound character and age-ability. Why? The wines in the Cru Morgon have deeper roots because of a three- to six-foot soil depth above the granite rock foundation. Hence, Jean-Pierre can make a wine of more profound expression and earthier character. The wine comes from 2 ha. in Morgon's most famous climates. The vineyards face south, south-east.
Tasting Notes
Jean-Pierre's style is aromatic - he goes for fruit and freshness, no excess tannins - in this 100% Gamay wine. Enhanced by the age of the vines and the depth of the vineyard soil, Jean-Pierre's Morgon boasts darker, more robust flavors than your typical Beaujolais Cru, and some find it has Pinot Noir-esque depth and complexity. It's fleshy with a fullness in the mouth.
Vinification
Traditional winemaking techniques include semi-carbonic maceration for about 10 days. It's aged for 6 months in stainless steel aging.