Domaine Lagneau, Beaujolais Cru Côte de Brouilly, Vieilles Vignes 2018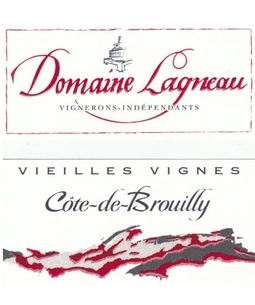 Appellation: Côte de Brouilly
Region: Burgundy
Country: France
Color: Red
Varietal(s): Gamay
About The Producer
Domaine Lagneau is owned by the Lagneau family, Gerard, Jeannine and their son Didier. They purchased the property in 1978 in the village of Quincie-en-Beaujolais, located on the slopes of Mt. Brouilly. It has its own cellar that dates to the 12th century. Currently, Didier is the winemaker, having taken over the reins from his father.
Terroir & Vineyard Practices:
This wine is a Vieilles Vignes, meaning the fruit comes from 75-year-old vines. The small vineyard of 1.5 acres consists of blueschist soils (considered to be one of the best) that sit at 200 meters on the steep slopes of Mont Brouilly. Côte de Brouilly is one the 10 crus in Beaujolais. These 10 crus run north to south in the northern part of Beaujolais. The village wines come from the south. Côte de Brouilly, (not to be confused with the cru Brouilly) sits on top of Mt. Bouilly's steep slopes (like a chapeau). An ancient volcano site, the vines get plenty of sunlight and the granite/schist soil is well-draining. It received appellation status in 1938.
Tasting Notes
Domaine Lagneau Côte de Brouilly is everything you want in a food-friendly wine that's juicy, fruity, and fresh - all thanks to the incredibly versatile Gamay grape. Put a slight chill on this Côte de Brouilly, and you can be sure of a light-bodied, easy-drinking delight that has lots of concentrated flavor! Cru Beaujolais at it's finest.
Vinification
The Lagneau's make the wine in the traditional Beaujolais method. Didier lets the Gamay grapes undergo semi-carbonic maceration (the grapes ferment in their own skins) and then the wine is aged in neutral concrete tanks. This technique gives the Côte de Brouilly its endearing fruity, freshness.