Domaine Lagneau, Beaujolais Cru Régnié, Vieilles Vignes 2019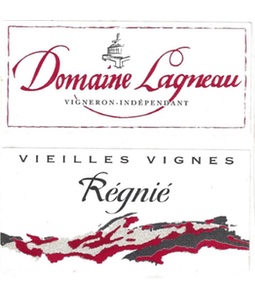 Appellation: Régnié
Region: Burgundy
Country: France
Color: Red
Varietal(s): Gamay
About The Producer
Domaine Lagneau is owned by the Lagneau family, Gerard, Jeannine and their son Didier. They purchased the property in 1978 in the village of Quincie-en-Beaujolais, located on the slopes of Mt. Brouilly. It has its own cellar that dates to the 12th century. Currently, Didier is the winemaker, having taken over the reins from his father.
Terroir & Vineyard Practices:
The Lagneau's have 12 ha of Vieilles Vignes in Régnié that average 70-years-old and they use natural yeast fermentation to produce a darkly robed wine with concentrated pure flavors. The appellation is noted for the pink granite soils that give the wines intoxicating aromatic qualities. It's dubbed as the "Prince of Crus" thanks to the grand church located in the small town of Régnié-Durette.
Tasting Notes
Domaine Lagneau is a small, top-notch producer in Beaujolais. This black-fruited 100% Gamay Cru Beaujolais offers concentrated flavors thanks to 70-year-old vines and pink granite soil. With mild tannins, mineral, spice, and aromatic black cherry and black currant flavors, it has everything to make it a food-friendly wine that delivers all sorts of dining possibilities.
Vinification
The Lagneau's make the wine in the traditional Beaujolais method. Didier lets the Gamay grapes undergo semi-carbonic fermentation (the grapes ferment in their own skins) and then the wine is aged in neutral concrete tanks. This technique gives the Régnié its endearing fruity, freshness while showcasing the terroir. And for Régnié that means the seductive minerality that comes from the pink granite soil.