Domaine le Clos des Lumieres, Côtes du Rhône Rosé 2020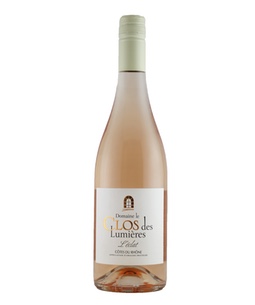 Appellation: Côtes du Rhône
Region: Southern Rhône
Country: France
Color: Rosé
Varietal(s): Cinsault, Grenache, Syrah, Mourvedre
About The Producer
Domaine le Clos des Lumieres is a family operation founded in 1946 by the grandfather of the current winemaker: Gerald Serrano. Located in the Southern Rhône Valley in the commune of Fournès, it is the high quality of the Domaine's soils that give their wines their unique appeal. The Domaine owns 50 hectares planted with vines, some as old as 65 years. The rocky, calcareous soil retains the heat of the sun through the night, providing the vines with a stable temperature and allowing the vines to produce fully ripe grapes.
Terroir & Vineyard Practices:
Round pebbles mixed in a chalky clay-sand soil, which dates from the Miocene and Ice-Age period (6-8 million years ago). The soil has a lot of complexity, because of erosion, the soil particles have become very fine, small enough to be picked up by the roots of the vines and impart their characteristics on the wine. This region also benefits from the most significant number of sunshine hours in France, essential to photosynthesis, sugar, and the maturing process. The northern wind, the Mistral, blows up to 100 days per year and keeps the vines clean and healthy, reducing the need for treatments substantially. The vines are planted at a density of 4000 per hectare. Yields are kept low to result in a high-quality grape - this is accomplished through hedging, leaf-thinning, and green harvesting.
Tasting Notes
Cherry and strawberry flavors dominate, with hints of spiciness, and the finish is full of flint and pink grapefruit. Complex and delicious as an aperitif or with a meal - and at an unbeatable price.
Vinification
The harvest is done at night to limit oxidation. The grapes are destemmed and crushed, followed by pneumatic pressing to have a better and more homogeneous press. The lees are filtered and incorporated into the juice, increasing the complexity of the wine. The vinification is done at low temperature.