Domaine le Clos des Lumieres, Côtes du Rhône (rouge) 2018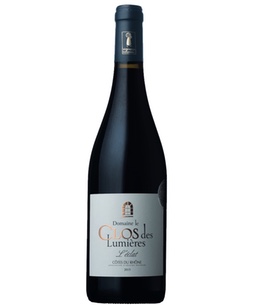 Appellation: Côtes du Rhône
Region: Rhone, Southern Rhone
Country: France
Color: Red
Varietal(s): 30% Syrah, 70% Grenache
About The Producer
Domaine le Clos des Lumieres is a family operation founded in 1946 by the grandfather of the current winemaker: Gerald Serrano. Located in the Southern Rhône Valley in the commune of Fournès, it is the high quality of the Domaine's soils that give their wines their unique appeal. The Domaine owns 50 hectares planted with vines, some as old as 65 years. The rocky, calcareous soil retains the heat of the sun through the night, providing the vines with a stable temperature and allowing the vines to produce fully ripe grapes.
Terroir & Vineyard Practices:
Round pebbles mixed in a chalky clay-sand soil, which dates from the Miocene and Ice-Age period (6-8 million years ago). The soil has a lot of complexity, because of erosion, the soil particles have become very fine, small enough to be picked up by the roots of the vines and impart their characteristics on the wine. This region also benefits from the largest number of sunshine hours in France, important for photosynthesis, sugar, and the maturing process. The northern wind, the Mistral, blows up to 100 days per year and keeps the vines clean and healthy, reducing the need for treatments substantially. The vines are planted at a density of 4000 per hectare. Yeilds are kept low in order to have a high quality grape - this is accomplished through hedging, leaf-thinning, and green harvesting.
Tasting Notes
Intense nose of jammy fruit, spices (nutmeg) and black olives. On the palate, mostly red and black fruit (cherry, raspberry, cassis), followed by some white pepper and garrigue notes, all embodied in a pleasant roundness with a fine finish of silky tannins.
Vinification
The harvest is done at night to limit oxidation. The grapes are destemmed and crushed, followed by pre-fermentation at low temperature to extract more primary aromas. The extractions of aromas, tannins, etc. is enhanced by the camp punching and pumping over of the juice. Sometimes the wine is oxygenized to obtain a perfect balance structure. The vinification is done at controlled low temperature.