Domaine les Hautes Cances Cairanne Blanc 2019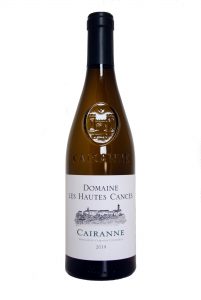 Appellation: Cotes du Rhone
Region: Rhone
Country: France
Color: White
Varietal(s): 40% Clairette, 20% Roussanne, 20% Grenache blanc, 15% Viognier, 5% Bourboulenc
About The Producer
Terroir & Vineyard Practices:
This cuvée is a blend of grape varieties coming mainly from plots located on the terraces of the river Aygues. Formed of pebbles, clay and fine sands, this terroir will bring finesse and balance to the wine. Only the Viognier parcel is located on the heights of the village of Cairanne, belonging to the Miocene hills terroir, which favors freshness and complexity in the wines.
Tasting Notes
This wine has a wide range of aromas and flavors. The first nose of white flowers is followed by aromas of fresh apricot and pear. The palate is very fresh, fruity and acidulous. To enjoyed chilled (12 °C) with vol-au-vent or Provencal-style cod.
Vinification
The grapes are harvested by hand, in small containers, and then pressed directly. Fermentation takes place under temperature control. Malolactic fermentation is not done.