Domaine Ninot, Mercurey 1er Cru les Crets (rouge) 2017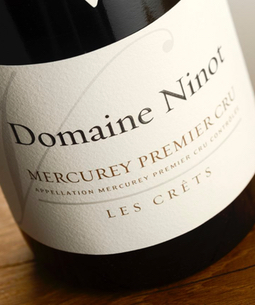 Appellation: Mercurey 1er Cru
Region: Burgundy
Country: France
Color: Red
Varietal(s): Pinot Noir
About The Producer
Domaine Ninot is a family estate based in Rully in the Côte Chalonnaise. Since 2003 Erell Ninot has been at the helm cultivating 10 ha in the Rully and Mercurey, a third of which are 1er crus. Erell received the prestigious "best young winemaker" in Burgundy distinction. Today, she works alongside her brother, Flavien. The stand-out characteristic of the Domaine's wines is their staggeringly fruit-forward profile. The Domaine's Organic Certification is in process.
Terroir & Vineyard Practices:
Ninot's Mercurey Premier Cru is from a vineyard high on the hill that defines the Mercurey landscape (and terroir). The vineyard, one of the best Mercurey Premier Cru vineyards, is called les Crets and it is located in the middle of a steep slope, affording the vines excellent southern exposure. The terroir produces an intense and concentrated wine.
Tasting Notes
An honest, earthy, pungent, full-flavored, red berry fruited Pinot Noir wine which, when consumed with a Boeuf Bourguignon and crunchy mopping bread in front of a crackling fire, can plunge one into a very comfortable state of mind.
Vinification
The wine undergoes malolactic fermentation during elevage to preserve the delicate aromas. Partial aging in oak casks. Vinification remains traditional to Burgundian methods.