Domaine Ninot, Rully 1er Cru Gresigny (blanc) 2019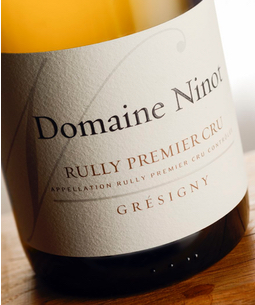 Appellation: Rully 1er Cru
Region: Burgundy
Country: France
Color: White
Varietal(s): Chardonnay
About The Producer
Domaine Ninot is a family estate based in Rully in the Côte Chalonnaise. Since 2003 Erell Ninot has been at the helm cultivating 10 ha in the Rully and Mercurey, a third of which are 1er crus. Erell received the prestigious "best young winemaker" in Burgundy distinction. Today, she works alongside her brother, Flavien. The stand-out characteristic of the Domaine's wines is their staggeringly fruit-forward profile. The Domaine's Organic Certification is in process.
Terroir & Vineyard Practices:
This wine comes from 50+-year-old vines planted on the hillside in argilo-calcareous soil. The grapes are harvested by hand and sorted with 100% de-stemming. They are pressed immediately. After settling for 12-18 hours, the must is put into vats and barrels for natural yeast fermentation.
Tasting Notes
Golden in color, the Rully 1er Cru Gresigny is soaked with beautiful, intense notes of lemons, grapefruits, and melons. This wine is an authentic French Chardonnay where the fruit flavors assert themselves, rather than the oak. The vibrant acidity keeps it pert and lively. It is rich, with plenty of personality, and full of finesse. Serve with savory cheese pastries, fish, poultry, and fresh goat cheese.
Vinification
The wine undergoes malolactic fermentation during elevage to preserve the delicate aromas. Partial aging is in oak casks. Vinification remains traditional to Burgundian methods.