Domaine Paul Garaudet, Puligny Montrachet 2018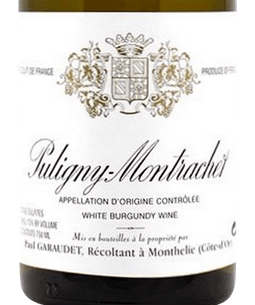 Appellation: Puligny Montrachet
Region: Burgundy
Country: France
Color: White
Varietal(s): Chardonnay
About The Producer
Paul Garaudet is the 4th generation to cultivate the family estate in Monthelie (in the heart of the Côte of Beaune, between Volnay and Meursault) It expands to 10.5 hectares. 5.5 hectares of which are exclusively planted with "Pinot Noir" a red grape variety on the appellations of Pommard, Volnay, Monthelie, and 5 hectares are exclusively planted with "Chardonnay" white grape variety on the appellations of Monthelie, Meursault, Puligny-Montrachet.
Terroir & Vineyard Practices:
In the vineyard all qualitative works are made in order to give a small crop composed by small healthy grapes, sweet and rich in terroir aromas. The harvesting is totally made by hand. No chemical products are used in order to give great wines for aging with good character.
Tasting Notes
Paul Garaudet's Puligny-Montrachet is exotic. The aromas are upfront and beautifully ripe on the nose. The flavors are rounded on the palate with layers of fabulous minerals and fruit.
Vinification
Paul only makes about 150 cases of this his best white Burgundy. The chardonnay is harvested at the peak of maturity, once in the winery a soft pressuring is made, the must is finely racked then put in casks by gravity in the cellar after which alcoholic and malolactic fermentations take place. A stirring of the lees in a barrel is carried out every 15 days during 12 to 18 months according to the maturing, it helps the wine to feed itself on its fine lees. The white wines are fined and lightly filtered in order to protect their purity and freshness.