Domaine Paul Kubler, Alsace, Riesling Breitenberg 2012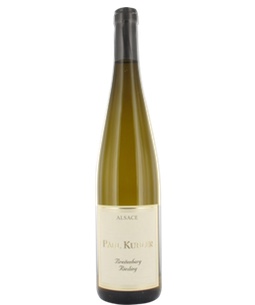 Appellation: Alsace
Region: Alsace
Country: France
Color: White
Varietal(s): Riesling
About The Producer
Philippe Kubler (his Domaine, Paul Kubler, still bears the name of his father) is an intensely passionate, incredibly talented winemaker with a top-notch resume and, most importantly, top-notch wines. Beginning with the 2004 vintage, Philippe took over his family's Domaine. Domaine Kubler is made up of only 9 hectares (about 22 acres) and the average age of the vines is over 30 years-old. He picks the grapes by hand and ages his wines in Alsatian oak foudres (big oak casks) for 8-10 months. The Kublers have been making wine here since 1620.
Terroir & Vineyard Practices:
This wine comes from a single vineyard planted on sandstone and limestone soils.
Tasting Notes
It is structured with flavors of peaches and citrus with telltale spices. It is unctuous and deserves a wonderful fish dinner with perhaps even a creamy sauce. But, you know another great thing about Riesling is its perfect marriage with sushi.
Vinification
Press
90 points - Wine Advocate: "Golden-yellow in color the 2012 Riesling Breitenberg opens with a clear, deep and intense aroma of a warm sandstone spot with fully ripe grapes and some aromatic herbs. The wine is full-bodied, pure, dry, elegant, intense, and straight on the palate and provided with a pronounced and citric acidity and a tight and promising structure. The finish is firm and salty but still somewhat closed whereas the mineral soul of this still young wine gives it a very good aging potential. 90 points. Drink 2017-2022." -Stephan Reinhardt, Wine Advocate
Decanter Alsace Riesling 2012 panel tasting Thierry Meyer top 3 list: "Coming from a sandsone soil mixed with some limestone, the wine is bone dry and firm with a great saltiness. With citrus and smoky aromas, this is a great Riesling with more terroir character than many grand cru-labelled siblings. Would be great with smoked fish or eel. 18 (93). Drink 2015-2025."- Thierry Meyer, Decanter