Domaine Paul Kubler, Alsace, Riesling Les Pierriers 2017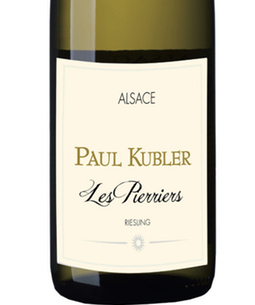 Appellation: Alsace
Region: Alsace
Country: France
Color: White
Varietal(s): Riesling
About The Producer
Philippe Kubler (his Domaine, Paul Kubler, still bears the name of his father) is an intensely passionate, incredibly talented winemaker with a top-notch resume and, most importantly, top-notch wines. Beginning with the 2004 vintage, Philippe took over his family's Domaine. The Kubler family's estate is 9 hectares (about 22 acres), and the average age of the vines is over 35 years old. The Kubler Family has been making wine here since 1620 and use sustainable farming practices.
Terroir & Vineyard Practices:
The Riesling vines were first planted in 1974 in a pink-sandstone deposit in Soultzmatt with south, south-east exposure. They are near the summit of the lieu-dit Weingarten, drawing much minerality. The grapes are picked and sorted by hand.
Tasting Notes
Riesling is early to ripen. By growing in a cooler climate, like Alsace, Riesling can develop flavor and keep its tantalizing acidity. The wine opens with intense notes of citrus, lemon, pink grapefruit, and gooseberry. The tantalizing acidity yields a refreshing wine with citrus flavors that extend over a long, lemony finish. From roasted to grilled and braised, this is a fantastic pairing. Riesling also compliments spicy food (think Indian curries and Asian dishes) and, of course, seafood.
Vinification
The grapes undergo a gentle pressing over 5 hours. Fermentation takes place in foudre (traditional oak casks) for 4 weeks. The wine ages sur lie through the spring and then on fine lees until bottling in the late summer. This is a dry white wine with 0.5 g/l RS.