Domaine Philippe Leclerc, Gevrey Chambertin, en Champs 2016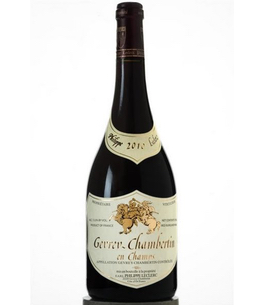 Appellation: Gevrey Chambertin
Region: Burgundy
Country: France
Color: Red
Varietal(s): Pinot Noir
About The Producer
Philippe Leclerc butts the mold of the Burgundy winemaker and certainly has created his own path. He forgoes the more conservative uniform blue blazer, shirt and tie, hardly cares about ratings, and is not a promoter. At the age of 13, Philippe left school to work in the vineyard with his father. His family has owned land in Gevrey-Chambertin for over a hundred years so he grew up surrounded by vines. Philippe produced his first vintage in 1979 and has developed a loyal following, justifiably. Philippe Leclerc pulls off magnificent Pinot Noirs in the Côte d'Or.
Terroir & Vineyard Practices:
Gevrey-Chambertin is located in heart of the Côtes de Nuits and the marl and limestone soil fosters the quintessential powerful style. This wine, Gevrey-Chambertin en Champs, is a village level wine. The grapes for this wine come from an ideally located vineyard just up the slope and a bit northeast of 1er cru les Cazetiers and the vines average 50 years-old.
Tasting Notes
This is where Pinot Noir reigns as the very definition of a great Burgundy. Gevrey-Chambertin produces only red wines and the marl and limestone soil fosters the quintessential powerful style. With rich dark colors and more tannins than most red Burgundies, these wines are meant for long aging. Powerful aromatically, it develops a lot of roundness and finesse. It will accompany very well cheeses and red meats.
Vinification
Philippe crafts his wines that are made to last, in the old way, but with all the benefits of modern know-how. This wine undergoes a cool maceration of about 15 days, followed by 15 days of fermentation, treading the cap by foot 3 times per day. He settles the wine before aging in oak barrels 30-50% new and then the wine is bottled unfined and unfiltered. The result is deep, firm, classic wines with strong tannic backbones.
Press
90 points - "Outstanding" - Burghound: "Here there is no reductive funk and instead a nose that reflects notes of plum, earth, the sauvage and a hint of wood. There is both better minerality and a finer mouthfeel to the sleek and beautifully well-detailed flavors that deliver excellent length on the balanced bitter cherry pit-inflected finish. A classic Gevrey."- Allen Meadows, Burghound