Domaine Pierre et Jerome Coursodon, St. Joseph, Silice (blanc) 2013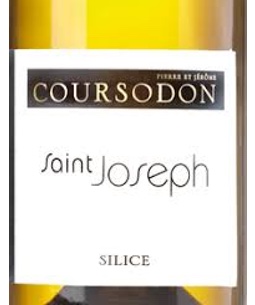 Appellation: St. Joseph
Region: Rhône
Country: France
Color: White
Varietal(s): Marsanne
About The Producer
The father-son wine making team, Pierre and Jerome Coursodon, are nothing but impressive. They are rising stars that need to be on your short list for the Northern Rhone. This dynamic duo (4th and 5th generation winemakers) work the steep inclines of St. Joseph with backbreaking care to produce astonishingly beautiful St. Joseph wines. They own 16 ha with 13.5 ha planted to Syrah and 2.5 ha planted to Marsanne and Roussanne vines.
Terroir & Vineyard Practices:
The vineyards face south, south-east on the steep slopes of the St. Joseph appellation with a mix of clay and granite soils. Goblet pruning. No mechanization is used, only manual work is permissible in the vineyards.
Tasting Notes
Pierre and Jerome use exacting care with their wines - they are all about quality rather than quantity. The Silice Blanc is their entry-level white made from 100% Marsanne. With ripe fruit flavors, it has a good balance between alcohol and acidity. The wine is a very elegant Marsanne. It is very fresh and creamy with a good length on the palate. For seafood lovers, this fresh and mineral wine will be perfect.
Vinification
Strictly manual grape harvest and with a first sorting in the vineyard. The second sorting is done upon arrival at the winery. Long cycle pneumatic press. All juice is moved via gravity. Racking of the must, low temperature natural fermentation in stainless steel tanks. Low temperature malolactic fermentation for wine stability.