Domaine Tour Campanets, Coteaux d'Aix-en-Provence, Bois de Fees (blanc) 2018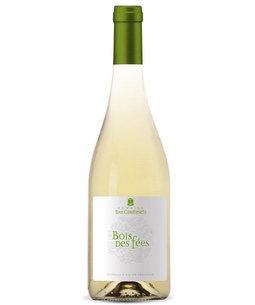 Appellation: Coteaux d'Aix-en-Provence
Region: Provence
Country: France
Color: White
Varietal(s): 70% Vermentino, 30% Ugni Blanc
About The Producer
Nestled in the hills outside of Aix-en-Provence, surrounded by woods and waterfalls, is where you will find Domaine Tour Campanets. Emmanuelle Baude is at the helm of Domaine Tour Campanets. She is committed to the environment, and the domaine has been certified organic since 2012.
Terroir & Vineyard Practices:
Eco-certified since 2012
Tasting Notes
Bois des Fées is clean, clear, fresh, and refreshing. The crystal bright platinum color (with a slight green hue) quickly catches your eye. Then the friendly aromatics entice, with a delicate nose of exotic fruits (pineapple, passion fruit) and white flowers. As you sip, the wine blossoms into flavors of peach with a generous mouthfeel. The minerality and acid give this wine zip. Bois des Fées translates to "Wood of the Fairies," to honor the surrounding forest of the domaine.
Vinification
This wine is made using traditional methods. To keep the flavors fresh and alive, the wine ferments at a very cool temperature and then rests on the fine lees to develop a fantastic mouthfeel. Only 5% of this appellation (Aix-en-Provence) makes white wine.