Domaine Tour Campanets, Coteaux d'Aix-en-Provence, Mon Coeur Violettes (rouge) 2017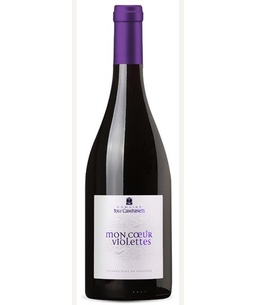 Appellation: Coteaux d'Aix-en-Provence
Region: Provence
Country: France
Color: Red
Varietal(s): 50% Cabernet Sauvignon, 50% Syrah
About The Producer
Nestled in the hills outside of Aix-en-Provence, surrounded by woods and waterfalls, is where you will find Domaine Tour Campanets. Emmanuelle Baude is at the helm of Domaine Tour Campanets. She is committed to the environment, and the domaine has been certified organic since 2012.
Terroir & Vineyard Practices:
Eco-certified since 2012
Tasting Notes
The nose suggests succulent red and black fruits with notes of sweet spices. Round and delicate, the mouth is well balanced with beautiful smooth tannins and a refreshing finish. It's simultaneously robust, tender, and juicy. Excellent with beef sirloin, mushrooms, and even chocolate desserts. Certified Organic. Mon Coeur Violettes translates to "I give you my heart."
Vinification
The cuvee is named for the French endearment that translates to "I give you my heart." This is a special, small production cuvee. Everything is done by hand—night harvesting of fruit for freshness. Traditional winemaking methods. Stainless Steel aging with maturation on fine lees.