Domaine Tour Campanets, Coteaux d'Aix-en-Provence Rosé 2020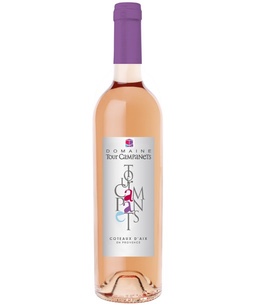 Appellation: Coteaux d'Aix-en-Provence
Region: Provence
Country: France
Color: Rosé
Varietal(s): 50% Cabernet Sauvignon, 50% Syrah
About The Producer
Nestled in the hills outside of Aix-en-Provence, surrounded by woods and waterfalls, is where you will find Domaine Tour Campanets. Emmanuelle Baude is at the helm of Domaine Tour Campanets. She is committed to the environment, and the Domaine has been certified organic since 2012.
Terroir & Vineyard Practices:
Eco-certified since 2012.
Tasting Notes
Certified Organic. This aromatic, refreshing, and light Provence Rosé boasts flavors of wild strawberries and other red fruits. It is elegant and refined.
Vinification
The Domaine takes great care in making this rosé. They harvest the grapes at night to limit oxidation. Then they press the grapes and let the skins only spend a few hours in contact with the juice before fermentation. This short time produces the beautiful whisper of a hue.