Domine Eric de Suremain, Rully 1er Cru Preaux (rouge) 2017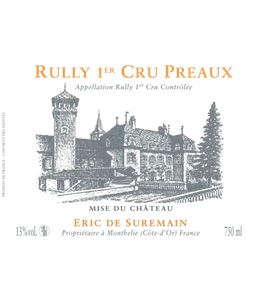 Appellation: Rully
Region: Burgundy
Country: France
Color: Red
Varietal(s): Pinot Noir
About The Producer
Suremain means 'sure hand' in French and Eric is definitely that. He was way ahead of his time and still is. In 1983 he inherited Château de Monthelie from his grandfather, Robert, which sits on the side of a hill in Monthelie. In 1996 he took his vineyards biodynamic. But, that doesn't mean he's a man to embrace every little technological miracle that comes along. Eric still believes in getting up close and personal with his grapes- you'll find him out in the fields. His vines are old and he keeps his yields very low. He is restrained when it comes to new wood.
Terroir & Vineyard Practices:
Preaux comes from the 1er Cru vineyards in Rully. It is sourced from two separate 1 hectare plots planted in 1985 and 1997. Certified Organic/Biodynamic at the strictest level.
Tasting Notes
Certified Organic/Biodynamic at strictest levels. Beautiful, fruit-forward, elegant flavors of red berries with surprising length and a sweet, strawberry finish.
Vinification
Eric de-stalks 100% of his grapes. It undergoes natural yeast fermentation. This wine remains in barrel for as long as two years. His wines are long-lived and will drink well up to ten years or more.