Petitjean-Pienne, Grand Cru Champagne (Cramant), Blanc de Blancs, Coeur de Chardonnay Brut NV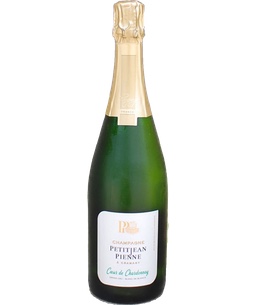 Appellation: Champagne, Champagne Grand Cru
Region: Champagne
Country: France
Color: White
Varietal(s): Chardonnay
About The Producer
Denis, a sixth generation winemaker, and his wife Dominique settled in Cramant in the Côte des Blancs. The are a "Grower Champagne" because they grow their own fruit and make their own wines.
Terroir & Vineyard Practices:
The Côte des Blancs is so named because of the famous white chalk soils. The chalk soils bring amazing minerality and the racy acidity to the champagne. As you travel down the slope of Côte des Blancs from Epernay to the flatter vineyards of the Côte des Blancs villages, there are a string of Grand Cru Villages - Avize, Oger and Cramant all along the D10. Cramant is tiny. Its population is maybe 850+ inhabitants, but its 17 different communes produce top quality Chardonnay, so they have received official Grand Cru classification by the French. The Petitjeans practice "reasoned agriculture." They harvest by hand from their 30 year-old vines located in Avize, Chouilly in addition to Cramant.
Tasting Notes
Elegant and golden robed, this Grand Cru Champagne is made from 100% Chardonnay. The very fine bubbles that hint at the minerality unfolds as the perfect accompaniment to lobster salad, oysters, sushi. This is a dry, "creamy" style Champagne. The base wine is aged on fine lees to develop a silky, deep flavor of soft caramel and nutty notes.
Vinification
Denis does an extremely gentle fruit pressing to maintain the rush of minerality on its initial attack on the palate. The Coeur de Chardonnay is Champagne made from 100% Chardonnay, sourced from Grand Cru Champagne Vineyards. The cuvee is a blend of three vintage years and it is released after three years of aging in the cellar. The color is golden and bright and the bubbles are particularly fine.
Press
Petitjean-Pienne placed in the Top 10 of the "Best Sparkling Wines of the World" at the Effervescents du Monde competition in 2015.