Presidial by Jean Luc Thunevin, Bordeaux 2018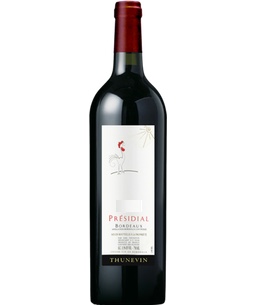 Appellation: Bordeaux
Region: Bordeaux
Country: France
Color: Red
Varietal(s): 90% Merlot, 5% Cabernet Franc, 5% Cabernet Sauvignon
About The Producer
Jean Luc Thunevin started the whole "garage" movement back in 1989. Garage wines are small production wines from tiny parcels of vineyards that are tended to as preciously as orchid gardens. Jean Luc bought a tiny parcel on the "wrong side of the tracks" in St Emilion. From this parcel a few vintages later he proved to the venerable St Emilion establishment.
Terroir & Vineyard Practices:
Sourced from properties on the Right Bank that offer consistent quality. The 30+ year old vines grow in clay and limestone soils.
Tasting Notes
Jean-Luc Thunevin, one of St. Emilion's most respected winemakers, makes this juicy, fruity, modern, ready-to-enjoy Bordeaux blend.
Vinification
Aged in stainless steel.